Wounded Mike Goody aims for South Pole challenge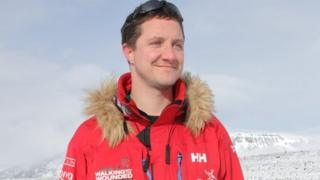 A serviceman from West Sussex who lost a leg following an explosion in Afghanistan is on course to be selected for a South Pole expedition.
Mike Goody, 27, from Felpham, has spent two weeks training in Iceland with other injured servicemen and women.
He hopes to be selected for the Walking With The Wounded expedition, which plans to take three teams from the UK, US and Commonwealth to Antarctica.
A decision on who will go is expected to me made within the week.
Mr Goody was on patrol with the RAF Regiment in Kandahar, in 2008, when he was injured by a roadside bomb.
After treatment his left leg was amputated below the knee and he suffers form post-traumatic stress disorder.
The two-week training and selection exercise in Iceland has seen him working in temperatures with a wind chill of -30C.
'Balance problems'
If selected he will be one of several wounded troops who will travel 330km (205 miles) across the frozen wastes to the South Pole.
He said: "I've never done cross-country skiing before so it got kind of interesting, with balance problems.
"It was physically and mentally exhausting, working muscles I never knew I had and some that I don't have anymore.
"It can also be quite lonely skiing, even though we're in a group, as we're in a single line going two hours at a time."
Mr Goody currently works as an emergency care support worker for South East Coast Ambulance Service.
His ambition is to become the first amputee paramedic in the country.