Two men jailed for abusing underage girls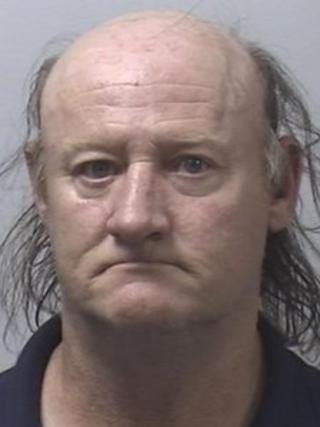 Two men have been jailed for sexually abusing young girls over a 14-year period.
Paul Thomas, 50, from Hampshire, was convicted of 25 offences and Jerry Lee Howe, 40, from Lancashire, of three offences including rape.
The pair were were found guilty at Winchester Crown Court in December. Thomas received a 19-year sentence and Howe was jailed for 11 years.
Judge Andrew Barnett said the victims had suffered "appalling trauma".
Thomas, 50, of Western Way, Basingstoke, was convicted of assaults against four girls.
Howe, 40, of Dunnyshop Avenue, Accrington, was found guilty of offences against one victim.
'Sick and angry'
The court heard the men abused their victims separately at different times and in different locations from the mid-1990s and until 2010.
Kerry Maylin, prosecuting said some of the victims were "very young" and the abuse only stopped when they reached 16.
She said some of the victims were used to the abuse and "did as they were bid" by their attackers.
One victim told the BBC she still feels "sick and angry" after the abuse.
"At the end of the day, they might have been done for what went on, but they're not the one who have been damaged by all this stuff which has gone on in my lifetime," she said.
"Whenever I'm reminded, I just want to lash out. I've still got to live with it everyday."
Speaking after the verdict in December, Det Insp Scott Clarke of Hampshire Constabulary said: "These men systematically abused and degraded children to the point where their victims felt their ordeal was just a part of growing up."