Stephen Seddon's 'indescribable' murder of parents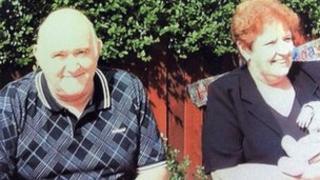 "Killing someone is heinous enough but to kill their parents and plan it and do it for money - it's almost indescribable."
Det Ch Insp Denise Worth has experienced some harrowing crimes - but Stephen Seddon's cold-blooded shooting of his parents left the experienced detective nearly lost for words.
Seddon, 46, was found guilty of shooting the couple at their home in Sale, Greater Manchester, following a trial at Manchester Crown Court.
He was also found guilty of their attempted murder months earlier when he drove a car into a canal.
"I can't imagine there are that many people in the world that could do that," Ms Worth said.
'Suspicions raised'
When police were called to the house at Clough Avenue on 6 July, 2012 by neighbours concerned they had not seen the couple, it initially looked like Bob Seddon had shot wife Patricia then himself, as the gun lay on his lap.
However, police said they quickly realised the nature of his injuries meant he could not have pulled the trigger himself.
Their suspicions were first raised about the couple's son, who lives in Seaham, Durham, when officers involved in the post-mortem examination spoke to Bob Seddon's GP.
He said Mr Seddon had been to see him the day before his death and had told him "I think Stephen's trying to kill us for our money", adding that he was going to "have it out with him" that night.
Bob Seddon had become suspicious the car crash had not been an accident and when police looked back at the original investigation they found conflicting accounts.
Stephen Seddon had said he thought the wheel of the hired BMW hit a brick before plunging into the canal, though no brick was ever found.
'Revelled in attention'
He had also given another explanation, that he was suffering from chest pain. He was the first to escape the car as he had a knife and a heavy lock, which he used to cut through his seatbelt and smash the window.
Once out of the car he stood on top of it but got off after witnesses standing on the bank shouted that he was making it sink, the court heard.
He was hailed a hero in the media after getting his father and disabled nephew out of the car, before firefighters rescued his mother. He "revelled in the attention", Ms Worth said.
When asked how he survived he told journalists he had watched a TV programme about how to get out of a sinking car.
His motive, police said, for wanting to kill his parents was to get his hands on a £230,000 inheritance.
As a company director, Stephen Seddon had enjoyed a luxury lifestyle, driving a Bentley, owning a boat in the Lakes and taking exotic holidays.
However, he pleaded guilty to fraudulent trading in 2000 and from that point had been unable to keep a job and relied on his parents for money.
'Drugs run'
Friends and family described them as "devoted" to Stephen and said they "would have done anything for him".
They had already gifted him £40,000 in cash and bought his home, the court heard.
They were also devoted carers for their 17-year-old grandson, who has severe learning difficulties and is now in care.
When police arrested Seddon they said he refused to account for his movements on the day of the murder, but CCTV footage showed his brother-in-law's car had been driven to the Manchester area from Durham.
The car was also spotted in Darlington, where police believe Seddon picked up the gun, which had been stolen from Crook in County Durham on 31 December.
Police also found CCTV footage of an identical car driving to and from the direction of the Seddons' house in Sale.
During the trial, Seddon's defence was that he was on a drugs run to Manchester, but Ms Worth said detectives believed that was a lie and that in fact he had killed his "devoted" parents before returning to Durham, where he was seen on CCTV buying beer.