Thames river levels cause sewage pipe overflow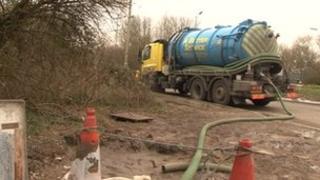 A water company has warned that high water levels in the River Thames are causing sewage pipes to overflow.
Thames Water is pumping out sewers but it describes as only a "short-term fix", as bad weather continues.
Worst affected are Aldbourne in Wiltshire, Compton and Lambourn in Berkshire, Hambleden in Buckinghamshire, and Playhatch, Standlake and Carterton in Oxfordshire.
Natalie Slater, from the company, said the Thames was "brimful".
"The water levels are higher than our sewage network at the moment," she said.
"That's not supposed to happen but what it means is that water is getting into the sewer pipes and it's filling them up, meaning that in some areas the network's struggling to cope.
"Our sewers were designed to take waste water away from homes and businesses, they weren't designed to take river water and ground water as well.
"We're making sure we have a team of standby tankers ready so that if we see additional problems across our network we can go out and deal with them and try and prevent any more flooding."
She added that the company would look to implement a "long-term solution" once the rain waters subsided.
Thames Water has spent £4.5m over the winter pumping waste out of sewers to prevent them overflowing.