Hull City fans' 'huge anger' at match restrictions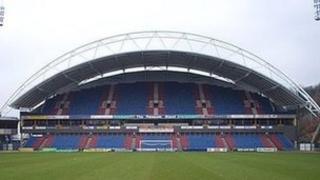 More than 1,000 fans have shown "huge anger" in a survey over police restrictions on Hull City's game at Huddersfield Town, supporters claim.
West Yorkshire Police said fans must collect tickets from an M62 service station and use official buses.
The Football Supporters' Federation (FSF) said the "extraordinary" survey results showed how angry fans felt.
Police have claimed that starting the game at 17:20 GMT on 30 March raised the risk of alcohol-related disorder.
A protest march is being held before the match which is being shown later than normal to enable live TV coverage.
Police had previously limited tickets for Hull fans to 1,500 and were making them travel on official coaches to avoid any trouble caused by all-day drinking.
It has now been agreed that fans can park at a service station and an extra 200 tickets have been made available.
But the FSF said it was still unhappy with the restrictions.
Amanda Jacks, from the FSF, said: "The responses nearly all start with the same thing, 'I'm a businessman, I'm a mother-of-three, I'm an accountant', these are normal, professional people not thugs.
"Last season, Hull City fans had just 14 arrests home and away, none of them alcohol-related.
"Quite what these measures achieve, beyond a huge amount of inconvenience for ordinary people, is beyond me."
Ms Jacks said the survey would be used in discussions with police on how future matches were handled.
"This was done to show the huge anger fans feel," she continued.
"It is a terrible slur on fans and they have provided no evidence to back up why these restrictions are in place."
'No major risk'
Chris Smith, of Hull City Official Supporters Club, said: "I've supported my club for over 50 years. I've been to home and away matches for the last seven seasons.
"I am more aware than anyone, definitely more than West Yorkshire Police, that our fans are one of the best behaved set of fans in the country.
"We do not present a major risk. This is going back to the old days of the 1970s and police need to realise there is a different way to handle things."
Restrictions were imposed after the kick-off time for the match at Huddersfield Town's John Smith's stadium was changed to 17:20 GMT to allow Sky to broadcast the game live.
West Yorkshire Police said "policing higher-risk fixtures later in the afternoon increases the likelihood of disorder over a longer period of time and impacts upon policing the night-time economy".