First Great Western rail franchise set to be extended to 2016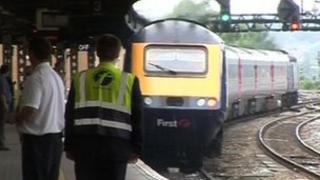 First Great Western (FGW) looks set to continue running rail services from London Paddington to South Wales for another three years.
New franchise plans announced by the government will see negotiations start over a deal up until July 2016.
FirstGroup had previously been granted a six-month extension until October.
Transport Secretary Patrick McLoughlin has also published a detailed timetable for all rail franchise arrangements over the next eight years.
The decision follows a major review after the West Coast bidding process had to be abandoned last year.
Mr McLoughlin said: "This programme is a major step in delivering tangible improvements to services, providing long-term certainty to the market and supporting our huge programme of rail investment."
A Department for Transport spokesman said a deal up until 2016 was still to be decided but welcomed talks with FGW.
FirstGroup is also set to have its franchises for First Capital Connect and First TransPennine Express services extended under the deal.
Chief executive Tim O'Toole said: "This provides continuity and consistency for our passengers and enables us to continue to deliver considerable improvements to services.
"We look forward to reviewing the details of the upcoming franchise competitions as they are announced, and submitting further high-quality bids that deliver for passengers, taxpayers and shareholders."