Connors family forced labour sentences upheld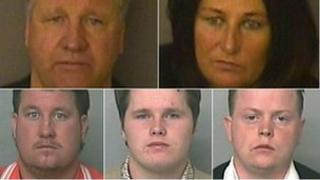 Harsher sentences will not be imposed on four members of a traveller family convicted of conspiring to force vulnerable men to work.
William Connors, 52, sons John, 29 and James, 20, and son-in-law Miles Connors, 24, were jailed in December.
But Attorney General Dominic Grieve had argued at the Court of Appeal that the terms were "unduly lenient".
His case has been rejected by the Lord Chief Justice, Lord Judge, Mr Justice Simon and Mr Justice Irwin.
The four men, who pleaded not guilty, were jailed after being convicted of conspiracy to compel people to carry out forced labour by a jury at Bristol Crown Court.
Judge Michael Longman handed William Connors, of Bristol, a six-and-a-half year jail term, John Connors, of Bristol, a four-year term, James Connors, of Bristol, a three-year term in a young offenders' institution and Miles Connors, of Chippenham, Wiltshire, a three-year term.
William Connors' wife Brida, 48, was also convicted and jailed for two years and three months, but this was not appealed.
'Short involvement'
Mr Grieve had suggested at a hearing in February that longer sentences should have been imposed on the four men to deter others from committing similar crimes.
Lawyers representing the men disagreed and told the appeal judges that the sentences imposed were not "unduly lenient".
Making his ruling, Lord Judge said the sentence in the case of James Connors reflected his youth and "short involvement in the conspiracy, into which he effectively grew up".
In the case of Miles Connors, his term reflected the fact that his "personal involvement was at a relatively less culpable level than the others, for a shorter period, and that there was genuine mitigation as he sought to prevent some of the worst manifestations of a conspiracy into which he had for all practical purposes effectively married".
He said the court had concluded that although the sentences on William and John Connors were lenient "neither sentence was so lenient as to require interference".
Last year's trial heard the family had committed crimes in Gloucestershire, Leicestershire and Nottinghamshire.
Prosecutors told the trial the family had their own private workforce - victims who were homeless drifters or addicts - who they beat and forced to work for as little as £5 a day.