Barbados shooting: Philip Prior speaks of ordeal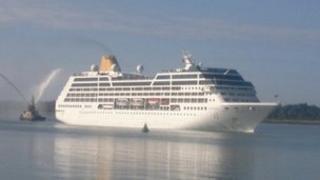 A British man has described the moment he and his wife were shot in Barbados during a round-the-world cruise.
Philip Prior, 72, and 59-year-old Ann Prior, of Bedfield, Suffolk, were attacked in Bridgetown on 17 March.
In an interview with BBC Radio 5 Live, Mr Prior said the couple had been sight-seeing when they suffered gunshot wounds.
After being treated in hospital, they decided to continue with their cruise and have now rejoined the ship.
Speaking from his cabin on the cruise liner, off the coast of Antigua, Mr Prior told of the moment he heard "bangs" as the couple were sight-seeing in Bridgetown.
"Ann was shouting 'my bag, my bag'. I turned round to see that somebody was trying get the bag off Ann and suddenly I felt a pain in my groin after a bit of a bang," he said.
'Wonderful treatment'
"Suddenly there was a second shot and Ann got wounded. It's all very difficult to recollect.... it all happened so quickly."
He said he and his wife both fell to the ground, with "blood pouring" from a wound to Mrs Prior's right leg.
Mr Prior said he had not initially realised he had been shot but then discovered a wound in his groin.
Passers-by came to their aid and the couple were taken to the Queen Elizabeth Hospital, in Bridgetown, where they received "wonderful treatment", Mr Prior said.
Mr Prior underwent an operation but the couple have since left hospital and returned to the ship last Thursday.
He said doctors advised them against flying and they decided the ship would be a good place to recuperate.
The couple have discussed their ordeal with fellow passengers on the cruise but were trying to keep it "low key" and avoid "repetitive" conversations.
Mr Prior, who has been told he cannot drink alcohol while his recovery progresses, said the couple were being checked regularly at the hospital on board the ship.
He added: "We are in good shape. I just wish I could enjoy some of the drinks on board."
Junior Orlando Hunte, 28, of Rices, St Philip, Barbados, has been charged with robbing Mrs Prior and causing serious bodily harm to Mr and Mrs Prior.
A second man, Marlon Gooding, 35, of Union, St Philip, Barbados, has been charged with robbing Mrs Prior.
They appeared in court earlier this week and were remanded in custody.
The couple were on a three-month P&O cruise around the Caribbean and South America on board the Adonia, which left Southampton on 8 January and is due to arrive back in the UK on 3 April.