Kidderminster Harriers' fan stabbing: Police seek witnesses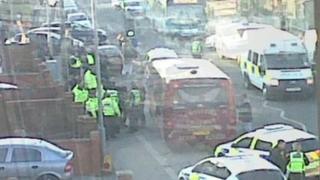 Detectives investigating the stabbing of a football fan and injuries to a second are visiting the area in Luton where the attack happened.
Officers were called to a fight in Dunstable Road close to the junction of Mansfield Road on Monday.
The two men were among five busloads of supporters who had travelled to see Kidderminster Harriers in their non-league away fixture against Luton Town.
Three men and a boy were arrested on suspicion of affray and assault.
The men, aged 19, 21 and 40 and the boy aged 16 are in custody and being interviewed by police.
Fight broke out
It is believed Kidderminster fans had been sitting in traffic in one of five coaches having left Luton Town football ground when an argument between the fans on the bus and local people broke out.
Police said that they did not believe the residents involved had been to the match or had any connection with the club.
Some fans left the bus and a fight broke out, leaving two men, aged 39 and 38, needing hospital treatment.
Neither was seriously injured. The 38-year-old suffered minor stab wounds and stayed in hospital overnight, while the 39-year-old was struck on the head.
Det Sgt Martin Eaton said officers would be visiting the area and speaking to residents.
Steve Millington, chairman of the Kidderminster Harriers Independent Supporters Trust, said on Monday: "We deplore the attack on the coach. This shouldn't happen in football or in society in general."
Kidderminster won the Conference Premier fixture 2-1, leaving them top of the table.