SAS sniper Danny Nightingale retrial to be challenged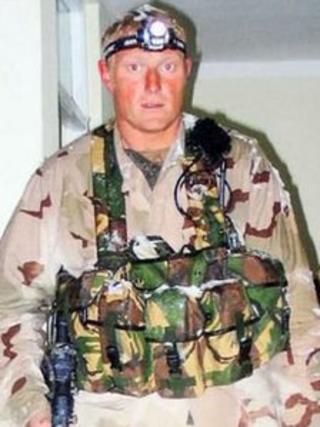 Lawyers for an SAS sniper are to challenge whether it is in the public interest to retry him for illegally possessing a pistol and ammunition.
Sgt Danny Nightingale, 38, from Crewe, admitted possessing a 9mm Glock pistol and over 300 rounds of ammunition at a court martial in November.
His military detention sentence was reduced and suspended on appeal.
Last month Sgt Nightingale's conviction was quashed and his lawyers will raise several "legal issues" at the retrial.
The soldier, who said he was given the gun as a present while serving in Iraq, was originally given an 18-month sentence, which was later reduced to 12 months and suspended.
The 38-year-old is due to attend a preparatory hearing at the Military Court Centre in Bulford, Wiltshire, on 1 May.
'Degree of confidence'
He is set to plead not guilty and his defence team will argue that a brain injury which affected the soldier's memory is a critical element in the case.
Lawyer Simon McKay said: "We will identify three or four quite important legal issues which will need to be heard, including whether it is in the public interest to continue the prosecution.
"There has always been a degree of confidence within the defence team because we know Danny and we know precisely what impact the brain injury has had on him.
"At the end of the hearing last month the Lord Chief Justice made it very clear in express terms that the sentence should not be increased.
"Even if he takes it all the way to a trial, even if he goes to the Court of Appeal, even if he goes to the Supreme Court, the outcome if he is found guilty - the sentence - will be that."
The pistol and ammunition were found by West Mercia Police at Sgt Nightingale's Hereford accommodation.
The sniper had been serving his sentence at the Military Corrective Training Centre in Colchester, Essex, prior to his release last year.