Defra announces camera project to monitor badger farm visits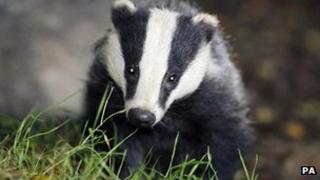 Badger visits to 75 farms in the south west will be monitored by infrared cameras, Defra has announced.
Cameras will be installed at farms across Devon, Somerset, Wiltshire and Gloucestershire for the project launched by the Animal Health and Veterinary Laboratories Agency (AHVLA).
They will record the activity of the animals which can spread bovine TB.
Defra said the project was designed to help farmers determine what "bio-security" measures could be taken.
Dr Gavin Wilson, the wildlife programme leader at the AHVLA, said: "Recent research has shown badger visits to farm buildings are widespread and common, but that some farms are more prone to badger visits than others.
"The purpose of our current project is to try to understand the reasons behind this, and develop a simple method to assess the risk of badger visits to any given farm.
"Ultimately, this is about helping farmers determine what the best bio-security measures are for their individual farms."
A survey for badger activity will be carried out near farm buildings and details of farming practices like cattle feeds, local crops, and landscape features will also be recorded.
'Determined creatures'
Ian Johnson, from the National Farmers Union in the south west, said: ""We have already seen some work on this via the South West TB Advisory Service which confirms badgers are extremely determined and very resourceful creatures when it comes to accessing sources of food.
"Effective bio-security is a vital part of disease control."
Defra said the spread of bovine TB led to the slaughter of 28,284 cattle in England in 2012, a 7% increase compared to 2011.
The announcement comes weeks after the government confirmed two culls of badgers.
More than 150,000 members of the public have signed a petition opposing it.
Previous projects by Defra confirmed badger visits to farms in the south west were common and widespread and could be prevented by protecting buildings used as feed stores and installing secure gates or electric fencing.
The AHVLA is appealing for farmers to volunteer for the project.