Georgian chef Elizabeth Raffald's recipes return to Arley Hall menu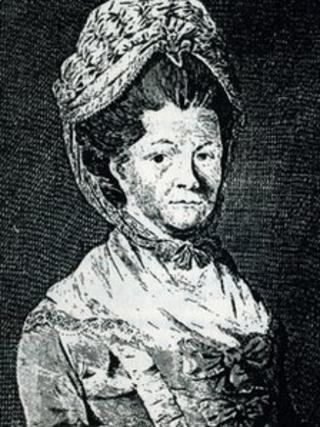 An 18th Century "celebrity" chef's recipes are returning to the tables of the stately home where she learned her craft.
Elizabeth Raffald published the bestselling The Experienced English Housekeeper after serving at Arley Hall in Cheshire in the 1760s.
General manager Steve Hamilton said her lamb pie, pea soup and rice pudding would be sold at the hall's restaurant.
But he said staff would "steer clear" of her turtle and calf's foot pudding.
Mrs Raffald's book became so well known Queen Victoria would later copy sections of it into her diary.
When the cook sold the copyright in 1773, she was paid £1,400 - the equivalent of £200,000 at the time.
It was believed to have been published 13 times, with a further 23 pirated editions also being sold.
'Huge character'
The book contains dozens of recipes and is split into three parts.
The first section is dedicated to browning, soups, fish, plain meat, game, pies and puddings; the second to confectionery; and the third to pickling, potting and distilling.
Writing in the book, she makes it clear to readers her recipes are written "purely from practice" and in plain English "so as to be understood by the weakest capacity".
Following her marriage to Arley Hall's chief gardener, Mrs Raffald moved to Manchester, where she was reported to have run two pubs, two coffee shops, an indoor and outdoor catering business and an agency supplying domestic staff.
She also published the first Manchester trade directory and opened the first register office in the city that allowed servants to marry.
Mr Hamilton said she was "a huge character in Arley's history and it is only right that we mark her contribution to the estate's past".
"There are a few recipes that we will steer clear of, but there are definitely some traditional meals that visitors are going to love," he said.