SAS sniper Danny Nightingale fundraising campaign begins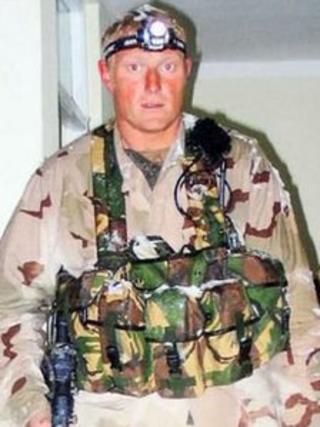 A civil liberties group has started an appeal to raise £150,000 to help an SAS sniper pay for a retrial for illegally possessing a pistol and ammunition.
In November Sgt Danny Nightingale, from Crewe, won an appeal against his 18-month sentence, and last month the Court of Appeal quashed his conviction.
He now faces a possible retrial, but his family said they were "stretched beyond their means financially".
Big Brother Watch has started an online appeal to help with his legal fees.
Nick Pickles from the group said: "We think it's wrong that now the Court of Appeal has quashed his conviction, this guy who served his country risks losing his house just to pay to defend himself."
A 9mm Glock pistol and ammunition were found by West Mercia Police at Sgt Nightingale's Hereford accommodation in September 2011.
The 38-year-old soldier said he was given the gun as a present while serving in Iraq.
'Always takes time'
He is due to attend a preparatory hearing at the Military Court Centre in Bulford, Wiltshire, on 1 May.
Last week, his lawyers said they would raise the issue of whether it is in the public interest to continue his prosecution.
His father, Humphrey Nightingale, said the family would struggle to pay legal costs if there was a retrial.
He said: "We've been fighting this for over a year and a half and that has stretched us beyond our means financially.
"The Lord Chief Justice did rule when the case was quashed that costs would be paid back to us but it always takes time for these things to come through, so we're very grateful to people coming to help us."
Big Brother Watch said every penny raised that was not spent on Sgt Nightingale's legal fees would go to the SAS Regimental Association.