More 'sticky substance' birds found in Devon and Cornwall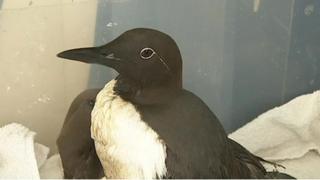 A "sticky substance" has affected almost 90 birds washed up on the coast of Devon and Cornwall.
The birds, which are mostly guillemots, have been collected by RSPCA inspectors on beaches from Mevagissey in Cornwall to Kingsbridge in Devon.
The RSPCA said the birds were covered in "what appears to be the same white substance" that affected hundreds of birds in February.
Conservationists believe more birds will be found in the next few days.
Twelve seabirds were found on Wednesday and 27 on Thursday.
Steve Hussey, from the Devon Wildlife Trust, said: "The seabirds which we've found have mostly been guillemots which would be looking for sand eels to bring to their chicks.
"We've got a southerly wind at the moment and all the conditions are right for us to find lots more seabirds in the next couple of days."
'Common chemical'
In February, more than 300 birds, mainly guillemots and some razorbills, were taken in by the RSPCA after being found covered in glue-like polyisobutene.
The birds were found in Dorset, Cornwall, Hampshire and Sussex.
Staff used washing up liquid and margarine to clean the animals.
At the time, the Maritime and Coastguard Agency (MCA) said it was a "fairly common chemical" carried aboard ships which was produced in a large number of countries.
The RSPB has called for polyisobutene, which can be released legally under certain conditions, to be reclassified and discharges of the substance to be outlawed.
Mr Hussey said it looked like the same substance which was found on the birds washed up this week.
He said: "It could even be the same leak and spillage and it's just the wind that has changed round to a southerly direction and is bringing these birds on to the shore."
After the first incident, the MCA launched an investigation into the spill, but has since said it had been unable to trace the source of the pollution.
On Friday, the MCA said a number of European countries, including the UK, were investigating the discharge of high-viscosity products by chemical tankers and the resulting residues that wash up on beaches.
It added that once the result of the study was known, it would be submitted to the International Maritime Organisation for consideration.