Baroness Thatcher's death reopens wounds in Yorkshire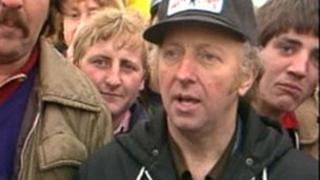 Arthur Scargill received a stark two-word text message on his mobile phone from a close friend this week: "Thatcher dead".
He sent back a two-word reply: "Scargill alive".
Since then the former union leader has remained inside his Barnsley home with the curtains drawn. The press have been camped outside but he has not uttered a single word in public on the death of the Iron Lady.
Others have not been so reticent.
In Grimethorpe on the evening of her death I popped into a pub whose landlord was once an underground worker and NUM branch chairman at the pit which once dominated the economy of the South Yorkshire village.
Bitterness not forgiveness
The pit is long gone, but the bitterness remains. There was a celebration party in full swing.
There was no forgiveness from a room full of ex-miners who will never cease to believe that Margaret Thatcher destroyed their lives by provoking the year-long miners' strike in 1984, then dismantling the coal industry.
But it did not take much effort to find a completely different view. Business leaders and Conservative MPs from Yorkshire were queuing up to sing the praises of someone they consider rescued Britain from economic oblivion when she took office as prime minister in 1979.
During a live programme on BBC Radio York I mentioned that Arthur Scargill had decided some years ago that if he outlived his sworn political enemy then on the day of her death he would refuse to comment.
A businessman taking part in the broadcast immediately piped up that he did not want to hear from a man who had done so much to create the sort of industrial strife that only a figure as strong as Margaret Thatcher was able to overcome.
The enemy within
And in a specially-convened House of Commons debate, Philip Davies, the Conservative MP for Shipley in West Yorkshire, said Margaret Thatcher had inspired him to become a politician.
He went on to say he deplored the fact that a rebellion by senior figures in her own party forced her to leave office in 1990. They were "people not fit to lick her boots", he said.
Even the fact that Parliament had been recalled from its Easter recess to debate the life of the 20th Century's longest-serving prime minister opened up wounds.
South Yorkshire Labour MP John Healey refused to attend saying it was an attempt by the Conservative party to stifle a considered debate on a highly-controversial figure.
He pointed out that the seven hours of parliamentary time allocated contrasted with the single hour MPs devoted to a discussion of Sir Winston Churchill after his death in 1965.
Ken Capstick, the man who exchanged those short text messages with Arthur Scargill, has a simple view on why even the death of Baroness Thatcher, so many years after she left office, will never soften her image in Yorkshire pit villages.
A striking miner himself and later the vice president of the Yorkshire area of the NUM, he told me: "Any community opposing the policies and views of the Iron Lady in her pomp was labelled the enemy within. That's an insult that will never be forgotten".