Sir Tom Courtenay gets BIFF lifetime achievement award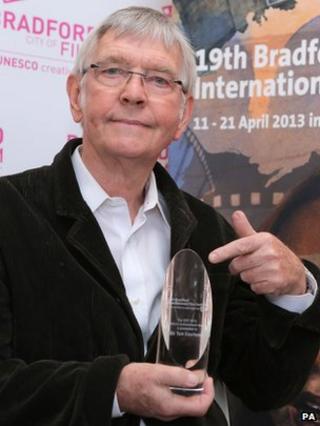 Sir Tom Courtenay has received a lifetime achievement award in the 50th anniversary year of his classic film Billy Liar.
The 76-year-old Hull-born actor accepted the award at the National Media Museum during the Bradford International Film Festival (BIFF).
He was presented with the award by personal friend and former Hull City footballer Ken Wagstaff.
Sir Tom said he was "very grateful" and thanked BIFF for the "great honour".
"Bradford is a city that has played a significant part in my film career," said the actor.
"I shot Billy Liar here 50 years ago, and then 20 years later returned to make The Dresser at The Alhambra Theatre.
"It is also a great pleasure to return to the city now it's the world's first Unesco City of Film, and I hope the films I made here have contributed to that legacy."
Celebratory screening
Sir Tom had huge success with Billy Liar on stage and film and also in Doctor Zhivago, for which he received his first Oscar nomination.
He has also worked in television and radio and most recently appeared alongside Maggie Smith, Billy Connolly and Pauline Collins in Dustin Hoffman's directorial debut Quartet.
Previous recipients of the BIFF Lifetime Achievement Award include John Hurt, Jean Simmons, Barbara Windsor, Claire Bloom, Ken Loach, Jack Cardiff and Richard Attenborough.
Neil Young, BIFF co-director, said: "We are delighted to be honouring Sir Tom Courtenay with our lifetime achievement award, 50 years after the release of the classic Billy Liar, which we'll be showing in a newly restored version."
Sir Tom will also introduce the Bradford-based film at a special celebratory screening at the National Media Museum on Monday.
The film festival runs until 21 April.