Meat Loaf pulls out of Manchester concert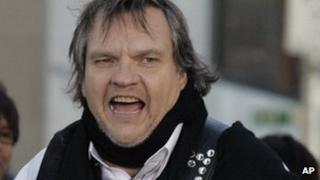 Meat Loaf has postponed his concert in Manchester following continued issues with his band's health.
A Manchester Arena spokesman said the Wednesday show had to be postponed "due to medical reasons affecting several members of the band".
The move follows the singer's postponement of a show in Nottingham on Sunday for the same reasons.
A spokesman on Meat Loaf's Facebook page said "the doctors have not given us the green light to go ahead".
He added: "Meat, the band and crew are massively disappointed to have to postpone a second show and send love and apologies".
He said the band "fully expect the tour to continue on Friday in Sheffield".
The Manchester concert will be rescheduled for a date in May, which has yet to be confirmed.
All tickets for Wednesday's gig will remain valid on the new date, although refunds will be given to fans who are unable to attend.
The shows are part of Meat Loaf's Last At Bat farewell tour.
After Sheffield, Meat Loaf is due to play in Cardiff on Sunday before moving on to dates in Germany, the Netherlands and Ireland.