Vita Sackville-West: Knole celebrates writer's early life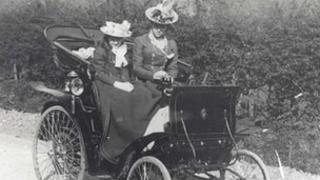 The early life of writer and gardener Vita Sackville-West is being celebrated at the Kent house where she grew up.
Sackville-West, the only daughter of the third Lord Sackville, loved Knole but moved away after her marriage to diplomat Harold Nicolson in 1913.
As a woman she was unable to inherit the estate in Sevenoaks, which passed to her uncle Charles, with the title.
An exhibition of photographs from the Knole family albums is being held to mark 100 years since her wedding.
Early snapshots of Sackville-West will be on show, along with descriptions of her years at Knole.
Original manuscript
Sackville-West was prevented from inheriting Knole by the rules of primogeniture, which passed everything on to the closest male heir.
The law has changed for the monarchy, and the Duke and Duchess of Cambridge's child will be next in line to the throne after William whether girl or boy, but primogeniture still applies to hereditary peerages.
After their marriage, the Nicholsons bought Sissinghurst Castle near Cranbrook and developed the grounds now visited by gardeners from all over the world.
Knole was the inspiration for Chevron, the house in one of her novels, The Edwardians.
It is also the setting for the novel Orlando, written by Sackville-West's lover Virginia Woolf who had a house not far away in Rodmell, East Sussex.
The original manuscript for Orlando is displayed in the Great Hall at Knole.
The exhibition, Vita at Knole, runs from Tuesday until 2 June.
Knole is now a National Trust property, but the Sackville family still live there in private apartments.