Mother Alison Tooby drowned trying to save son at Bude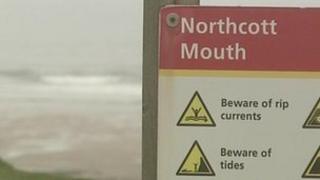 An inquest has heard about frantic efforts to try and save a mother who drowned while trying to rescue one of her sons from a rip current.
Alison Tooby, 52, from Wellington in Somerset died at Northcott Mouth beach near Bude in Cornwall last September.
The hearing was told lifeguard cover had stopped the previous day.
North Devon Coroner John Tomalin recorded a verdict of accidental death, saying it was "an unfortunate set of circumstances".
The inquest at Bideford Town Hall heard that Ms Tooby's two sons, aged 11 and 13, were body boarding when they got into difficulty.
One made it back to shore on his own. The other was rescued by two men who also alerted emergency services.
RNLI lifeguards told the inquest they raced across from another beach about a mile away and brought Ms Tooby back to land using their rescue boards.
She was airlifted to hospital where she was pronounced dead.
'Right' lifeguard decision
The inquest heard that the beach was lifeguarded in July and August, but ended in the first week of September when local schools' term-time started.
The RNLI said after the inquest that it had carried out a risk assessment and with about 15 people on the beach it was the "right decision" not to have lifeguards there.
Mr Tomalin said: "This acts as a reminder that we must respect the sea and take care, especially on beaches not patrolled by the lifeguard service.
"Tragedy is the right word to describe this but it could have been worse."
Ms Tooby's partner, Mike McGuffie, praised the actions of those who saved the boys' lives, and tried in vain to help their mother.
He said: "I would like to thank everybody who went into the water to help.
"Having listened to this today, everybody was very brave and I thank them."