Colwick cheese goes back into production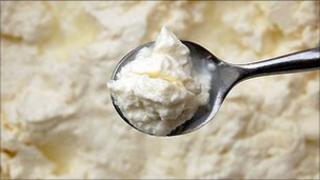 A cheese first made in the 17th Century is being produced again by an East Midlands dairy - and has attracted interest from Jamie Oliver.
Colwick cheese originates from the Nottinghamshire village of the same name and was produced commercially until 1993.
Food historian Matthew O'Callaghan rediscovered the cheese whilst reading an old recipe book.
The cheese is being made by Eastwell Crossroads Farm, Leicestershire.
Mr O'Callaghan said he also hoped to get the cheese protected under European law, like Stilton and Melton Mowbray pork pies.
If successful, this would mean it could only be produced locally.
Mr O'Callaghan said: "The cheese hasn't been produced for about 20 years.
"I found the recipe in a book that dated from about 1890 and I decided to try to make it.
"It's a delicious cheese and should be more widely available."
Mr O' Callaghan approached Eastwell dairy farm to see if it was interested in producing the cheese.
Alan Hewson, who runs the farm, said he spent two years developing the recipe.
"We have had to adapt the recipe slightly to meet modern-day health standards but we have now got better facilities to do that," he said.
"The cheese now has a much longer shelf-life."
Mr Hewson said the cheese had attracted interest from several food retailers and he had even received an inquiry from chef Jamie Oliver.
The cheese will be launched at the third annual Artisan Cheese Fair in Melton Mowbray, on 4 and 5 May.