St George takes on dragon at Dover Castle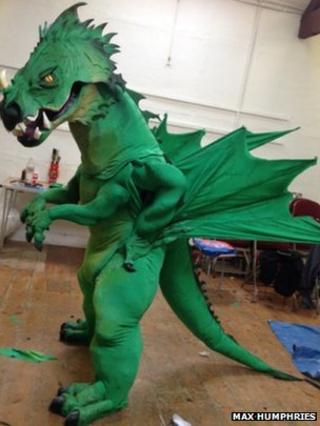 A castle that has protected the shortest sea crossing between England and France for over 800 years is facing a new threat ahead of St George's Day.
Dover Castle will need to be defended from a 7ft (2.1m) green dragon as part of a weekend of celebrations.
The dragon was made by theatre puppeteer Max Humphries in his workshop at Farnham Maltings, in Surrey.
It is controlled by a human inside the aluminium, fibreglass and foam structure.
Mr Humphries has previously made puppets for the shows in London's West End, the Royal Ballet and the National Theatre.
'Natural foes'
The beast was delivered to Dover in time for rehearsals for the weekend's events, which will include displays of medieval combat as well as the battle with St George.
"Because there are a lot of horses involved, I think it is being handled by someone from the stables," said Mr Humphries.
"It needs to be someone who understands the horses, because horses and dragons are natural foes."
St George's Day, on 23 April, celebrates the patron saint of England.