Exeter welcomes 243 Field Hospital reservists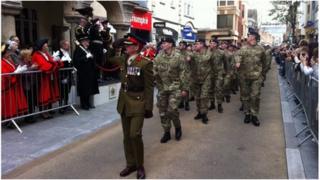 Hundreds of people have welcomed more than 40 Army reservists in Exeter after a three-month tour of duty in Afghanistan.
The members of 243 Field Hospital, who normally work in NHS and private hospitals and clinics across the South West, were based at Camp Bastion.
The base's hospital treats injured British and Afghan service personnel and civilians.
Many reservists left their family at home over Christmas.
L/Cpl Naomi Turner, a 36-year-old Virgin Care secretary from Exmoor, said: "The teamwork is something you don't experience at any other place.
"I found it quite overwhelming at times, the way everyone pulls together no matter how tired you are.
"Everyone makes it better if you feel homesick and before you know it the tour's over."
'In it together'
Sgt Debbie Evans, 49, a nurse at Derriford Hospital in Plymouth, was a ward nurse at Camp Bastion and on her second tour of Afghanistan.
"It makes you feel really proud, the camaraderie means that even though we are reservists we are in it together," she said.
Mayor of Exeter Rob Newby said: "As a former member of an emergency service, I am very conscious of the commitment that is necessary to undertake such a job in civilian circumstances," he said.
"I truly respect each of every one of them."
The unit is based in Bristol but also has squadrons and detachments in Gloucester, Exeter, Plymouth, Portsmouth and Truro.