Measles jab campaign targets Teesside parents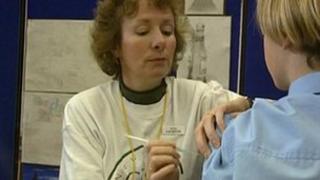 Parents on Teesside are being targeted in a campaign to give more children the MMR jab.
It is in response to what has been described as a "serious" outbreak of measles in the North East, with more than 200 cases since September.
A school-based vaccination programme is to be set up in Hartlepool, Stockton, Middlesbrough and Redcar.
Letters are being sent out urging parents whose children have not already been immunised to take advantage.
Highly effective
Professor Peter Kelly, chair of the Tees Outbreak Control Team, said: "Measles is a highly infectious disease and people can feel very poorly when they have contracted it.
"It can lead to rare yet serious complications, and 17% of the current cases have required hospital treatment.
"I would therefore urge all parents to get their child vaccinated through the school-based campaign if they have not been immunised already.
"MMR is a safe and highly effective vaccination which protects against measles as well as mumps and rubella."