Colston Bassett celebrates 100 years of Stilton cheese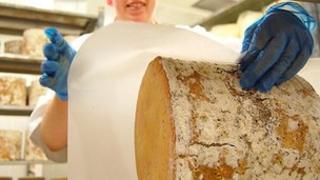 A Nottinghamshire village is celebrating 100 years since it began producing Stilton cheese.
Colston Bassett has one of only five dairies, located in Derbyshire, Nottinghamshire and Leicestershire, licensed to produce Blue Stilton.
The village is celebrating the anniversary with a series of events including a special church service.
The Reverend Claire Le Marchcant-Connell, said the dairy started in 1913 to help troubled farmers.
'Smoking a pipe'
Mrs Le Marchcant-Connell, who is also a farmer, said: "It gave an outlet for their milk and meant they could improve the value of the product.
"Thank God that we've kept going and we're still producing good cheese."
Billy Kevan, dairy manager and chairman of the Stilton Cheese Makers Association, said: "Hygiene is completely different now than in 1913.
"Farmers would have come in their muddy boots with a milk churn and poured it in the cheese vat, probably smoking a pipe with cow muck on their legs after milking the cows."
Stilton cheese gained a Protected Designation of Origin (PDO) from the EU in 1996.