Fuller quarry children 'stabbed to death'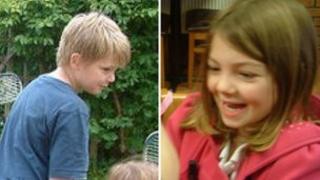 Three children found dead near their father's body in a disused quarry were stabbed to death with a hunting knife, an inquest has heard.
Ceri Fuller, 35, Samuel, 12, Rebecca, eight, and Charlotte, seven, were found at Poles Coppice in Shropshire.
An inquest heard Mr Fuller had agreed to split up with his wife, Ruth, after she developed a "crush" on her tutor.
The three children, from Milkwall in Gloucestershire, suffered "large" wounds to the throat.
A fingerprint matching Mr Fuller's was found on a bloodstained knife recovered from the scene on 16 July last year.
Pathologist Dr Alexander Kolar told Wem Coroner's Court that Samuel died from the effects of the single wound to his neck.
Rebecca had been stabbed five times in the chest, and her sister had suffered four chest wounds, the inquest was told.
Fractured skull
Dr Kolar, who carried out the post-mortem examinations, said Samuel and Rebecca also had cuts to their hands "consistent with defensive-type injuries".
The children's father was found dead at the foot of a 60ft (18m) cliff at the quarry with a fractured skull and other injuries consistent with a fall from height.
Mr Fuller, a paper mill worker, went missing with his children days before their bodies were discovered at the wooded beauty spot.
At the time of the deaths, West Mercia Police said one line of inquiry was that Mr Fuller had killed his children before taking his own life.
In a statement read to the inquest Mrs Fuller's sister, Joanna Ballard, said she went to see Mrs Fuller at her home in Milkwall, Gloucestershire, on 12 July.
She found that Mrs Fuller had tried to kill herself and was in a "zoned out, edgy and anxious state".
'Schoolgirl crush'
Earlier that day Mrs Fuller had sent texts of a loving nature to her husband, but also "flirty" texts to her tutor on a humanities course, the inquest heard.
One of the texts to her tutor had referred to a mid-life crisis, prompting him to remind her of the boundaries between a student and tutor.
Mrs Ballard said: "She had told me that she had a romantic crush on Mark, but she saw it as a schoolgirl crush and had no intention to take it any further."
But after being taken to hospital in Gloucester, and in a "rare moment of lucidity", Mrs Fuller told her sister that she and her husband were splitting up, claiming that "they had talked and he understood".
Giving evidence to the inquest, Mrs Ballard added that in the early hours of the next day her sister stared into her eyes and told her: "I think that Ceri killed Rebecca."
Forensic scientist Christopher Mckenzie said a 17cm-long (6.5in) hunting knife found at the scene had DNA on it from the three children.
In statements read to the court, friends of Mr Fuller, a production line supervisor, described him as a reserved family man and a good listener who rarely instigated conversations.