Challenge for Tories in North Yorkshire elections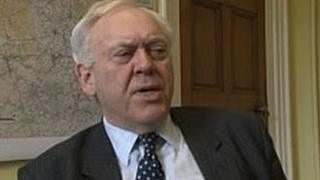 At the last election four years ago the Conservatives tightened their traditional grip on control of rural North Yorkshire taking 46 of the 72 seats on the county council.
It was such a predictable result that it hardly rated a mention on the regional news bulletins of BBC Look North which were dominated by the far-right BNP winning a Yorkshire seat in the European Parliament and Doncaster electing a rank outsider as its executive mayor.
It is completely different this year.
The spotlight is firmly on North Yorkshire's Conservatives as they campaign in the first elections in their rural Yorkshire heartland since David Cameron became prime minister.
John Weighell, the veteran North Yorkshire Conservative leader, admits that even in local elections like this the national political landscape plays a big part.
"It is always difficult for local candidates to win support when their own party is in government," he told me. "That is why Labour was virtually wiped out here in in 2009."
But there is far more at stake here for the Conservatives than providing a mere litmus test on the popularity of the coalition government.
For the first time the EU-sceptical, anti-immigration, UK Independence Party (UKIP) is mounting a major campaign in the county. UKIP has never won a council seat in Yorkshire and in 2009 fielded just two candidates. This year the party is putting up 49.
Candidates like Stephanie Todd, who as a sitting Richmondshire district councillor defected from the Conservatives to UKIP earlier this year, claims the other parties are letting the voters down.
"Immigration might not be a problem in North Yorkshire now," she told me. "But it will have a knock-on effect on housing and education and we are already short of houses in Yorkshire."
Mr Weighell dismisses the threat from what he sees as a tiny group of opportunists jumping on the bandwagon of protest votes gathered in recent parliamentary by-elections in other parts of Yorkshire.
"They have no policies relevant to North Yorkshire," he says. "EU and immigration are national issues and they have little to say on important local services like education and highways or the increasing challenge of the financial climate."
Labour is also gearing up to win back some of the ground it lost to the Conservatives in 2009. For the first time it is putting up a candidate for all of the 72 seats being contested.
The party's candidate in Malton, Tim Prest,was reluctant to make predictions when I caught up with him canvassing on a local estate, but even half a dozen victories across North Yorkshire would be seen as a success.
The Liberal Democrats have the toughest challenge. Four years ago they were squeezed by the Conservatives and lost half a dozen seats leaving a rump of just nine.
Leader Geoff Webber is putting on a brave face.
"There is more positive feedback on the doorstep at the moment," he told me as he sorted out leaflets at his home in Harrogate.
But in the past two years of a coalition government dozens of Lib Dem councillors on neighbouring Yorkshire authorities have lost their seats and the party has lost control of the big Yorkshire authorities of York, Sheffield and Hull.
Independent councillors have always played a big part in North Yorkshire. John Blackie, who helps organise them into a loose group, told me they are campaigning on very local issues.
There are 14 on the council now but more than 30 candidates are putting themselves forward for the 2 May ballot, including five campaigning to save their local hospital.
Other minor parties are also standing the odd candidate here and there, with the Greens trying to make their first breakthrough at county council level by fielding 25 candidates.