Behind the scenes with the North East Ambulance Service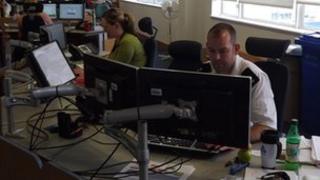 Rows of staff busily answer phones as widescreen televisions beam out statistics, making it look like any other call centre.
Those similarities quickly end as questions flash up to help operators decide if they need to despatch urgent assistance.
Is there enough blood to fill two mugs? Is the subject of the call "struggling desperately" for every breath?
At the North East Ambulance Service (NEAS) control room in Newcastle, staff take a mixture of non-emergency 111 and blue light 999 calls, known to the teams as "9ers".
The centre is the front line of a patch stretching from Teesside to Northumberland where accident and emergency wards faced a winter of strain.
A report to be presented to councillors on Tuesday details a 66% increase in ambulance visits to Middlesbrough's James Cook Hospital in just two years.
Kept on toes
It is within the walls of this control room that decisions with potential life-or-death consequences are taken.
Halfway through his 12-hour shift, call handler Callum Bradwell says he has not yet dealt with anything out of the ordinary, but a colleague did have someone "collapse" during a conversation earlier.
"Most desk jobs are just tedious," the 23-year-old says. "This is different, it's not repetitive. You always get something that keeps you on your toes."
Mr Bradwell has worked in the control room for two years after trying different NHS roles on leaving the Army.
He says there is lots of job satisfaction in helping those genuinely in need.
"It tends to be on the more serious jobs. You get a lot of people who are too drunk and so on - that can be a bit laborious."
Staff complete a five-week training course and pass a series of exams before they take their first calls in "grad bay", sitting next to an experienced colleague.
"The call handlers have so much to think about it's unreal," team leader Lee Henderson says.
'Cut and dried'
As well as nuisance callers, there are those who call 111 when their need is actually more pressing.
"There are people who know there's something wrong with them but they don't want to bother 999, but if their symptoms merit an ambulance they'll get an ambulance," Mr Henderson says.
"Everything is based on patient safety."
Mr Henderson says misunderstandings of how ambulances are allocated can lead to frustrations but he insists every decision is taken with the full range of risks in mind.
"You could be a 'G2' which is a 30-minute blue light ambulance and it could be almost there but if someone around the corner is not breathing, that ambulance is going to go to them first because they're the priority.
"That's what people don't understand.
"It's what you expect because they're worried about themselves because they need an ambulance. We've told them they need an ambulance, but that person around the corner could actually die without it.
"It's as cut and dried as that."
Mr Henderson closely monitors daily predictions for the number of calls into the centre, which currently hover around the 1,200 mark.
Along the corridor, where 999 calls are dispatched, duty manager Kris Bushell says it has been a "blinder of a day" with only one of the trusts marginally missing its response target.
"It's dependent on so many factors," he says. "If the weather's nice it can be a quiet day but if the weather's too nice it can be a bad day."
More techniques are being rolled out to help control demand on A&E services, says Mr Bushell.
"The hospitals are getting totally rammed and there are massive bed shortages at pretty much every hospital throughout our trusts.
"The long-term aim is to try and reduce their flow [of ambulances] because we're getting crews stuck at hospitals for two and three hours with one patient."
To help the call handlers, the control room is also staffed by clinicians who advise on about a quarter of all queries.
Before joining the NEAS, Tony Perkins was a staff nurse at a hospital in County Durham.
He describes himself as a "bit of a dogsbody clinician doing a bit of everything" but explains how others with midwifery, mental health and intensive care skills are also on hand.
"The biggest difference here is that you more or less deal with one job at a time," Mr Perkins says.
"You're not plate-spinning like you were on the wards.
"First thing in the morning we get people ringing in with a niggle in their chest. Their doctor's isn't open for another 30 minutes and they think they will ring 111 and get an ambulance.
"Often it won't warrant that. It's the sort of call that gets put through to us for further assessment.
"We're like the backstops or the gatekeepers."
A review of A&E services in the region is underway and Mr Bushell says staff are awaiting the outcomes and impact of any changes with interest.
In the meantime, he says morale at the centre remains high and staff turnover low.
"No day is the same as the next and you can't explain why half of the time," he says. "That's the beauty of the job."