Devon and Cornwall have most Schmallenberg cases in Britain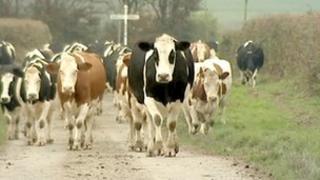 Devon and Cornwall have the most cases of Schmallenberg virus in Britain, a government vet agency says.
The virus, first detected in South West England in March 2012, can lead to sheep and cattle having stillborn or deformed offspring.
Devon saw 185 cases and Cornwall 96 by the end of March 2013, the Animal Health and Veterinary Laboratories Agency (AHVLA) said.
Farmers should contact a vet if they have livestock concerns, it added.
'Biblical plague'
The AHVLA said voluntary samples from farmers showed there had been 140 cases in cattle and 45 in sheep in Devon, while Cornwall saw 85 incidents in cattle and 11 in sheep.
The other most affected areas are Shropshire (86 cases), Dorset (81) and Somerset (76, excluding the north of the county).
It is believed the virus was carried to England by midges blown across the Channel and was then spread by native midges during summer 2012, government scientists said.
The first sign is often when livestock give birth to deformed or dead young - which can be months after the infection has occurred.
Schmallenberg is still considered a low-impact disease and farmers are not required to notify authorities about it, although they are advised to do so.
Ian Johnson, of the National Farmers Union (NFU), said more needed to be done to tackle the situation.
He said: "We need a vaccine in the field.
"On top off the other plagues and pestilence of biblical proportions that have been thrown at farmers, this is the last thing they need."
Defra said it was closely tracking the disease and was "continuing to work with partners across Europe and the UK to develop our knowledge of the disease".