Reward increased for Kevin Lavelle 'dumbbell' pub murder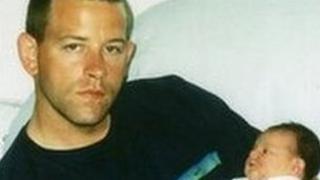 A reward offered over the murder of a man attacked with a dumbbell outside an Oxfordshire pub has been increased.
Kevin Lavelle, 29, died following a fight outside the Cricketer's Pub in Banbury in June 2004.
The crane driver from Bootle, Merseyside, who was working in Banbury, got into an argument with several Welshmen who were staying at the pub.
Up to £30,000 is now on offer to anyone with information about the attack in which Mr Lavelle suffered 50 injuries.
Thames Valley Police has increased its contribution to the reward fund by £5,000, on top of other donations from Crimestoppers and the Justice for Kevin Lavelle Fund set up by his friends and family.
Police say people from the Pontypridd area of Wales who were in the pub at the time Mr Lavelle was killed could be key witnesses.
Det Inp Steve Duffy said: "I also know there are people in the local Banbury area who are aware of what happened that night and I need anyone who knows anything to come forward now.
"This really is the last chance for anyone with information to come forward, no matter how insignificant you believe the information to be."
Mr Lavelle, a father-of-two, was working in the area to save money for his wedding.