Pateley Bridge death crash cyclist was policeman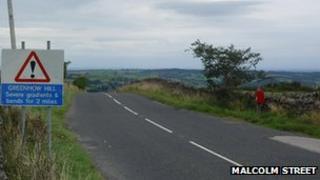 A cyclist who died after he crashed into a tree has been named as a Nottinghamshire policeman.
Det Insp Pete Parchment, 49, was cycling with friends near Pateley Bridge, North Yorkshire, when he hit the tree on Wednesday morning.
North Yorkshire Police said the accident happened on the B6265, known locally as Greenhow Hill.
Mr Parchment, who was wearing a cycling helmet, suffered serious injuries and was pronounced dead at the scene.
It appears no one else or any other vehicles were involved, a police spokeswoman said.
Chris Eyre, Nottinghamshire Police's chief constable, said Mr Parchment was "an exceptional police officer" and had served with the force for almost 24 years.