Birmingham New Street station 'like an airport terminal'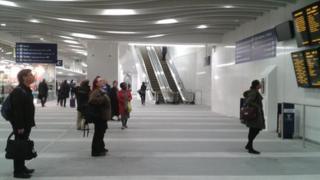 Weekday commuters have been using a new concourse for the first time, built as part of a £600m redevelopment of Birmingham New Street station.
Three new entrances, at Stephenson Street, Hill Street and escalators from the Pallasades shopping centre, opened at the city's main station on Sunday.
Chloe Mander, 26, from Tamworth, who was on her way to Coventry, said it was "aesthetically pleasing".
"It's not dark and dingy as it was before, I think it looks really smart and more like other major train stations like Manchester Piccadilly or like an airport terminal," she said.
"It's also good exercise because you have to walk for miles for where you need to go and I've no idea where my train is."
'Clean-looking'
Asked whether she found it easy to find her way around, Stacey Hubbocks, 23, from Water Orton, Warwickshire, said she had "just followed the crowds".
She said: "I use the station every day, the old one was grubby and grim but this is a lot better, modern looking and clean-looking."
People travelling from Moor Street station and pedestrians on Smallbrook Queensway are now able to reach the new concourse via the new Moor Street pedestrian walkway, which links the east side of the station to the new entrance on Stephenson Street.
The concourse will be three-and-a-half times bigger than the one it has replaced when the station revamp is completed in 2015.
The completion of the project will leave the station with more than 30 new escalators and 15 new public lifts.
About half of those opened on Sunday.
Chef John Morgan, 49, arrived at the station on a train from Coventry and said he was impressed but felt "there could be more signage".
'Like in France'
"For Birmingham, this is fantastic. The roof is very architectural and the roof panels may gather a lot of dust but I just think, aesthetically looking, the lighting is very good.
"Obviously until everything is finished and up and running the shops are still trying to find their feet but the facilities are great, a bit like an airport departure lounge."
Lee Simcox, 19, from Rowley Regis, was on his way to lectures at the University of Warwick.
He said: "It seems pretty good, one of the things I was worried about was where to go but they seemed to have done a good job.
"There are people [marshals] to show where to go so it was pretty easy to get around.
"They said they wanted to keep it up to date with the international stations, like in France, and they've done that, it's more modern."
Lorraine Keeble, 51, from Matlock, Derbyshire, said: "It's nice to arrive at a station and do a bit of shopping without having to go out [of the station].
"Compared to St Pancras it's not quite there, but compared to Derby it's looking good."