Norfolk chief Gormley says 'forces cannot stand alone'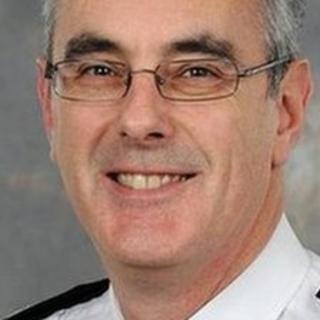 A departing chief constable has warned police forces in Norfolk and Suffolk will not be able to stand alone because of continued budget cuts.
Phil Gormley said collaboration with the neighbouring Suffolk force had been crucial.
Norfolk police said there were no immediate plans to replace Mr Gormley.
But Suffolk police stressed the forces remained "completely independent" and said it would be Norfolk's responsibility to find a replacement.
Norfolk Police and Crime Commissioner Stephen Bett said he was in no hurry to appoint a new chief constable as there was a strong team in county.
"I will take time to decide on a replacement and I'm not ruling anything out," he said.
"We think outside the box and are ahead of the game compared to some other forces.
'Value for money'
"But a lot more could be done alongside the Suffolk force.
"After 18 months we are getting to the limit of how much more we can cut in Norfolk and so we will be looking elsewhere for savings."
Tim Passmore, Suffolk's Police and Crime Commissioner, said collaboration between the forces was a "vital strand" of his savings plan.
"It is no secret that the funds we receive from government are not enough to deliver the objectives of my Police and Crime Plan so we need to work closely with partners to secure the very best value for money for the people of Suffolk," he said.
But he added: "Norfolk is a completely independent police force and it is therefore Stephen Bett's responsibility to consider a replacement for his chief constable."
Mr Gormley is to take up the role of deputy director general of the National Crime Agency later this year and said his successor would find maintaining police standards "challenging" because of budget cuts.
He praised his workforce for enduring the loss of 100 jobs.
"Here in Norfolk the budget cuts will mean continuing collaboration with the Suffolk force and public sector organisations across the region," said Mr Gormley.
"It is simply not possible with the amount of money we have to take out of budgets for Norfolk and Suffolk to remain stand alone organisations."