Fire service raises solar panels shock concerns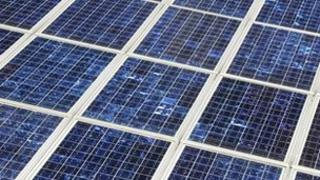 Fire crews in Devon and Somerset have been warned by bosses to be careful of solar panels at emergency scenes in case they get electric shocks.
Devon and Somerset Fire Service said it was concerned cables from panels could remain live, even after they were disconnected.
There were also risks of panels falling on firefighters, it added.
The Microgeneration Certification Scheme (MCS) said it was working with fire services about potential hazards.
'Potential for shock'
Earlier this week, the fire service said crews had to be careful during a large blaze at a hotel near Bovey Tracey in Devon because of its panels.
About 30 firefighters tackled the blaze at the Teign Valley Golf Club and Hotel.
The service said solar panels on the roof meant there was still a live supply to the building, which prevented firefighters from entering.
Speaking about its new guidance, the service said: "The main hazard to be aware of is that the system can remain live even after it has been isolated, presenting the potential for an electric shock.
"There is also the danger of damaged solar panels falling from the roof.
"At incidents of every nature, the incident commander will carry out a risk assessment to ensure that all the potential hazards are taken into account to bring the incident to a safe conclusion."
Martin Cotterell, from MCS - which covers much of the solar panel industry and certifies technologies used to produce energy from renewable sources, said there were "undoubtedly challenges" in dealing with panels at fires.
However, he said: "There have been tests in places like America and Germany with water being sprayed onto panels and it was found it was safe to do so.
"It depends on the circumstances of each incident."
He added: "We're talking to the fire service to educate them and inform them what we're doing, and let them know what the true hazards are when they come to a building with panels on."