'Pride and grief' for father of VC soldier James Ashworth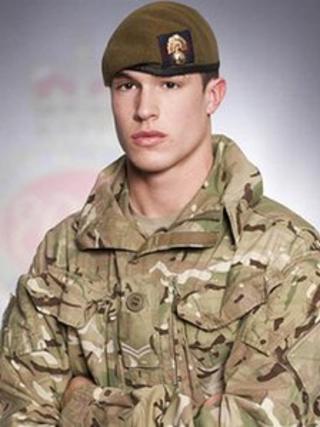 The father of a soldier who was killed in Afghanistan has spoken of his pride at his son being posthumously awarded the Victoria Cross.
L/Cpl James Ashworth, 23, from Corby, Northamptonshire, died under enemy fire as he tried to eliminate an insurgent position in Afghanistan in June.
His family will receive the award on his behalf later this month.
Duane Ashworth, of Eastchurch on the Isle of Sheppey, said he would be filled with "pride and grief".
'Courageous and inspiring'
He added: "It's going to be an absolutely amazing day obviously, full of pride and honour for what he's done, but also it'll probably bring a lot of the grief back into our minds as well.
"It's going to be an extremely difficult day but it'll be a very proud day.
"He's thought of everyday by all of us."
The Grenadier Guard was awarded the UK's highest gallantry award for his "supremely courageous and inspiring" actions in Helmand.
He was chasing a sniper protected by covering fire when he was shot.
Hundreds of people watched a memorial parade through Corby and took part in a two minute silence to honour the soldier in April.
L/Cpl Ashworth is the 1,361st soldier to be awarded the VC, and the first British soldier to be honoured posthumously since Corporal Bryan Budd was honoured in 2006.
Mr Ashworth has become a patron of the Victoria Cross Trust - which helps tend the graves of Victoria Cross holders - to honour his son's memory.
"I would be absolutely devastated if in 80 years James' grave was in the same condition that some of the graves out there are in at the moment," he said.
The Victoria Cross was created on 29 January 1856 and is handmade from bronze cannon captured from the Russians at the siege of Sevastopol in 1854-55 during the Crimean War.