TransEuropa Ferries owes £3.3m to Thanet council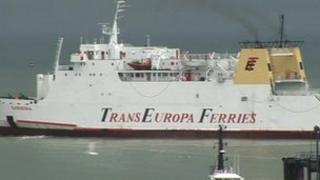 A cross-Channel ferry firm that went into administration last month owes about £3.3m to Thanet District Council.
Belgian firm TransEuropa suspended all sailings between Ramsgate and Ostend amid fears over its future.
The council, which owns the Kent port, said it would now have to raid its reserves, which would include taking £1m from housing benefit subsidy.
The authority had been providing "temporary financial support" to the ailing firm since March 2011.
In a statement, it said it had made it clear in discussions with TransEuropa that the money was "to ensure the on-going future of the business".
'Chase the debt'
"This temporary support was subsequently extended until an investment partner could be found.
"Although an investment partnership was entered into in November 2012, the promised funding was not released and ultimately led to TransEuropa ceasing operations."
It said it would take whatever action it could to "chase the debt" but "good accounting practice" meant that it would have to provide for the debt in full within its 2012-13 statement of accounts.
The situation will be discussed at a cabinet meeting on 29 May.
TransEuropa had run passenger and freight services between Ramsgate and Ostend for the last 15 years.