First new West Midlands firefighters for three years to be recruited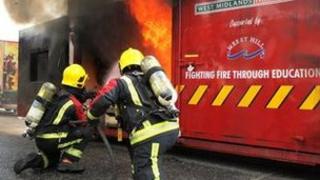 West Midlands Fire Service (WMFS) is to recruit new firefighters for the first time in three years, it has said.
The 50 new firefighters are needed as the service reports firefighter numbers have been "falling dramatically".
The WMFS said about six firefighters leave the brigade every month for "retirement or other reasons".
It added none of the recently reported cuts had led to firefighter redundancies. WMFS is facing funding cuts expected to reach £30m by 2014.
Online applications for new firefighters will be invited from June.
The recruits, with a starting salary of more than £21,000, will be funded through an additional £5 per household given to the service from the council tax, which was agreed earlier this year.
Councillor John Edwards, chair of the West Midlands Fire and Rescue Authority, said firefighter numbers "are falling dramatically" and "will have reduced from 1,600 in 2011 to 1,236 by the end of 2015".
Blaming government funding cuts affecting support services, he added: "We need to recruit in order to keep fire engines on the run and fire stations open."
Steve Price-Hunt, from the Fire Brigades Union, said: "As a union we welcome recruitment, however this is just scratching the surface.
"We've lost about 400 firefighters in the last three years [in the West Midlands], through retirement and so on. We need a mass recruitment drive really as recruitment and investment are the only solutions to protecting the frontline service."
David Johnson, from WMFS, said: "We get inquiries every day from people who want to join the brigade, and we're expecting large numbers of applicants for these highly-skilled, professional roles."
It is anticipated tests, medicals and interviews will be held between July and September, with contracts starting in October.