Kettering MP says planning loophole is spoiling village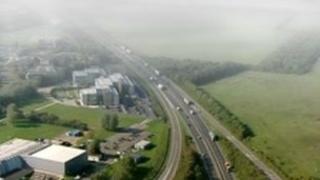 A Northamptonshire village is being over-run by random housing development, according to the local MP who blames the government's new planning policies.
Conservative Philip Hollobone told MPs that a loophole in the national planning policy framework is allowing "inappropriate housing development" in Broughton, outside Kettering.
"Random development is spoiling the village," the Kettering MP told a special debate in Westminster Hall. "Broughton is not against any development, what Broughton doesn't want is inappropriate development in inappropriate sites."
The row began when a developer submitted a plan to build 65 homes on the outskirts of the village. Dozens of people objected, who were worried about the impact it would have on its infrastructure.
Kettering Borough Council approved the plans because it knew that if it rejected them, the developer could win an appeal. Why? Because Broughton currently has no neighbourhood plan and the council currently has no five-year housing target.
New junction
"The National Planning Policy insists that if the council can't demonstrate a rolling five-year housing target, it has to grant permission. If it doesn't, the planning inspectorate will do it for them and charge the costs to Kettering Borough Council," Mr Hollobone said.
"Building developers are able to use the national planning policy guidelines (in places where plans haven't yet been finalised) to submit planning applications, confident that they will meet with approval - even if that's on appeal."
Broughton, which Mr Hollobone described as "middle England at its best", wants to draw up a local plan, but is waiting for a decision on whether a new junction will be built off the nearby A14.
Once that decision has been made it, the council will know where it can allocate future housing. Until it does, the developers are getting in first.
Another developer has now submitted plans for a further 67 homes in the village. Mr Hollobone said there was every likelihood that this scheme would have to be approved too.
He appealed to Housing Minister Nick Boles to use his authority to allow authorities like Kettering to say no to developers while neighbourhood plans were being worked up.
No solace
Mr Boles, sympathised with the residents of Broughton and agreed to visit the village but could offer no solace.
He said banning development while villages worked on their neighbourhood plans was not the solution or else "every village wanting to stop further development could take its own sweet time to draw up its plan".
He pointed out to Mr Hollobone that the new planning framework had a presumption in favour of sustainable development, not any development, so if there were concerns about the impact of a plan, it could still be turned down.
That seems the best hope for Broughton while the village awaits news on the A14 and its local plan.