Albanian brothers wanted over Xhem Krasniqi murder in Hove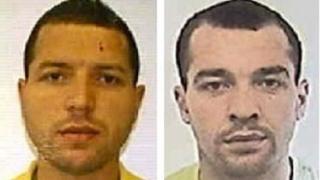 Police are hunting two brothers over the murder of a man in Hove.
Xhem Krasniqi, 31, from Albania, was shot in the abdomen in Church Road on Saturday.
His brother and nephew were also shot at but not hit. Police said the shooting may have been part of a dispute between two families.
Officers believe the gunman was Edmund Nela, 30, who has dual British and Albanian nationality. His brother Albert, 34, is also being sought.
The public have been warned not to approach either men.
The brothers are from the Brighton area and police said several search warrants had been carried out around Brighton and Hove.
A police spokeswoman said neighbourhood police officers had visited cafes frequented by the Albanian community.
"From the activity we have done so far we suspect that they may have left the area," she said.
All ports have been notified of the brother's identities.
In a statement Mr Krasniqi's family said: "Xhem was a loving and devoted family man living a normal life in Kent.
"He worked very hard as a scaffolder and was a good provider for his wife and children.
"He loved his family and friends very much and was the type of man who would do anything for anyone.
"He was a father of a four-year-old girl and a seven-year-old boy who miss their daddy very much."