Nottingham Station rail project: Union vote over compensation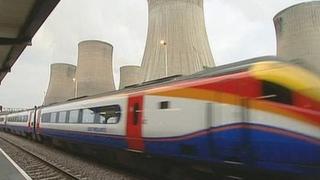 A union ballot will take place over compensation for rail workers during major engineering work in the East Midlands this summer.
The rail union RMT said its on-board staff had not been offered any additional payments while drivers will get compensation.
The signalling work will take place from 20 July to 25 August.
An East Midlands Trains spokesman said the works would not result in "any cost or inconvenience " to on-board staff.
Any overtime "will be recognised in the normal way and would be notified well in advance," the EMT spokesman said.
But RMT general secretary Bob Crow said: "RMT will not tolerate a position where our members working lives are turned upside down, for little or nothing in return, to fit in with events that are out of their control and which are set to last for much of the summer.
"We would hope that East Midlands Trains will… recognise the anger that is being generated amongst the staff."
The EMT spokesman said: "The RMT has already signed an agreement with us for these grades which reflects any changes to their normal working conditions.
"It is very disappointing that the RMT is threatening to try and cause further inconvenience through an unnecessary ballot."
Union members in Derby, Boston, Lincoln, Norwich, Nottingham, Sheffield will vote on whether to take industrial action, but no date has been set for the ballot.
During the engineering work, replacement buses will be used to take passengers and staff from Nottingham to East Midlands Parkway, near East Midlands Airport, where they will catch services to London and other destinations.
The £100m rail project involves laying six miles of new track, building a new platform and installing 140 signals.
Services between Nottingham and Skegness will also be affected, with trains starting and terminating at Grantham.
Network Rail, which is carrying out the work, said the changes would improve the speed of its rail services.