Liverpool-to-Plymouth £1m heroin and cocaine gang sentenced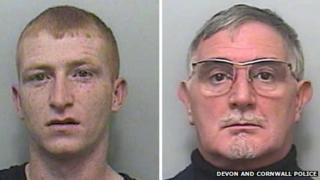 Two members of a violent gang that sold heroin and crack cocaine from Liverpool to Plymouth in a £1m-a-year operation have been jailed.
Stephen Kearns, 30, of Hornby Place, Merseyside was sentenced to 15 years.
Antiques dealer Wayne Harle-Stephens, 56, of The Parade, Plymouth, was sentenced to 14 years and nine months.
In total, four gang members were convicted at Plymouth Crown Court of conspiring to supply Class A drugs and nine others admitted the same offence.
The remaining members will be sentenced at a later date.
The court was told drug users telephoned a Liverpool gang member known as "matey", who organised drugs deals in Plymouth.
'Kick down doors'
Det Insp Neil Blackhurst, of Devon and Cornwall Police, said: "They would use intimidation and violence to find bases from which they could stay and operate.
"At three o'clock in the morning, armed with baseball bats and disguised by balaclavas, they would kick down the doors of people who owed them money.
"Anyone who was not towing the line was affected, including rival drugs dealers in Plymouth."
Members of the gang were arrested in a number of operations.
In one operation, 3kg of cocaine, 1,400 wraps of crack cocaine and 255 wraps of heroin with a street value of £175,000, were found concealed in a car on the M5, all destined for Plymouth.
'Commercial scale'
Harle-Stephens, who was described as the Plymouth ringleader, was found guilty of conspiring to supply Class A drugs and possessing cannabis with intent to supply.
Judge Paul Darlow told Harle-Stephens that he had tried to distance himself from the other members of the gang.
But he said: "You played a leading role in directing, organising and selling on a commercial scale.
"The size and nature of this conspiracy was bound to bring significant misery both in spreading addiction or the perpetration of addiction to Class A drugs."
Kearns, who was described by the judge as having a leading role in the gang, was found guilty of conspiring to supply Class A drugs.
Judge Darlow told him: "The size and extent of this conspiracy would have had a very damaging effect on the streets of Plymouth."
Carl Barlow, 22, of Savage Road, St Budeaux, and Elliot Barlow, 24, of Lenham Way, Speke, were found guilty of the same offence. They will be sentenced at a later date.
Nine other members of the gang, including James Griffin, known as "Matey", 19, of East Lancashire Road, West Derby, admitted conspiring to supply class A drugs.
They will be sentenced at a later date.
Acting Ch Supt Chris Singer, Plymouth police commander, said: "To the next crew that comes along and believes that they can step into the void, the word of warning is that we are out there."