Summer return for collapsed South West coast path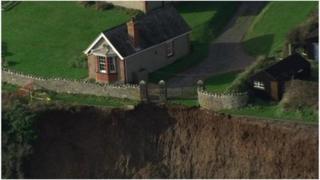 Two major sections of the South West coast path closed because of landslips last winter could be reopened by late summer, Devon County Council has said.
Stretches at Ivy Cove near Lannacombe and at Thurlestone in south Devon are among 26 sections closed after heavy rainfall made cliffs unstable.
The council is talking to landowners about permanent diversions.
The 630-mile (1,000km) coast path follows the entire South West peninsula from Somerset to Dorset.
A two-mile temporary diversion is in place at Ivy Cove and a one-mile diversion is in place at Thurlestone, both taking walkers some way inland.
Massive draw
The county council, which hopes to create new paths closer to the shoreline, is talking to at least six landowners about a new path at Ivy Cove, following the collapse at Christmas.
A public consultation is to end on 7 June and the new path could be open in August, said the council.
Up to 10 landowners are involved in talks for the new route at Thurlestone, where there was also a collapse at Christmas.
The new path would be no longer than original one, but the council said it was taking longer to finalise because the nearby householders live out of the county and the proposed path would be closer to some of their homes.
If there are no complications, the new path could be open in late summer.
Steve Church, of the South West Coast Path Association, said the route was a massive draw for visitors.
"We are talking abut £300m a year to the entire South West, and Devon would get a third to half of that, so it is a lot of money coming into the area because of the coast path."