Is it grim up north for public health?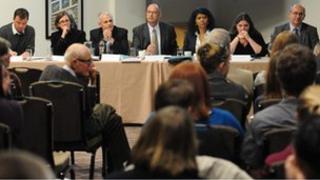 Unusually for a panel discussion no-one was disputing the basic tenet that when it comes to our health, yes, it's grimmer up north.
The question is what could be done about it, especially when money is tight?
This week I chaired a fascinating debate at Durham University which was looking at health inequalities in an age of austerity.
If you ever doubted that your health was not just down to your own body's foibles then you just need to look at the statistics.
Never mind the national figures that show there certainly is a north/south divide in life expectancy, even within our own region we've got very different prospects.
Health inequalities
The audience heard that the North East has the highest health inequalities of any English region with life expectancy gaps of up to 15 years in areas such as Stockton-on-Tees.
It's pretty obvious that the better off you are, the better your health prospects.
This isn't down to the actual money you have in your pocket as the NHS is, of course, free.
If you are unemployed that in itself can impact on your mental and physical well-being.
Educational opportunities can determine the type of work you do which in turn impacts on your long term health.
Our region is already carrying the historic burden of industrial illnesses from those working in mining, shipbuilding and construction.
Looking into the future, childhood obesity is a greater problem for those living in disadvantaged areas.
The panel explored how to influence people's lifestyle choices, from clamping down on TV advertising to getting tough with supermarkets.
Only a small fraction of the NHS budget is spent on prevention.
Obesity challenge
Professor Peter Kelly, the public health director for Stockton, admitted obesity is a health inequality undreamt of just a few decades ago.
Other panellists included academics, a think tank strategist and local MPs Chi Onwurah and Guy Opperman.
All had their own take on the challenge facing the NHS and social care provision.
The audience too had varied opinions on the causes and solutions.
Questions were raised about whether all governments are too London-centric to be able to tackle the issue.
And further questions were asked about whether in a time of austerity it ultimately costs the nation more to make budget cuts in benefits, health and employment programmes.
Narrowing the gap
The debate, organised by Durham University's Wolfson Research Institute and the think tank Demos, is just the start of a project to look into how to narrow the health gap.
It's certainly a hot topic which is not going to go away.
Recent governments have been trying to address it.
Labour commissioned the Marmot report when in power, and earlier this month the Conservative Health Secretary Jeremy Hunt told doctors they must tackle the issue.
We could be waiting a while to see progress.
In the 1830's, the gentry had a life expectancy of 55, which was more than twice as long as the 25 years for labourers.
Taken with the recent figures in Stockton as a guide, it could be another 183 years before that gap is closed.