Liz Longhurst: Online violent porn laws 'need revising'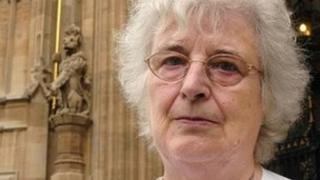 A woman whose daughter was murdered by a violent pornography obsessive says internet companies need to "get their act together".
Liz Longhurst, whose daughter Jane was killed by Graham Coutts, said laws to curb violent sites were not effective.
Ms Longhurst, from Reading, Berkshire, was speaking following the conviction on Thursday of Mark Bridger for the murder of five-year-old April Jones.
It emerged during his trial he had also browsed violent images online.
Coutts strangled Miss Longhurst with a pair of tights after forcing her into sex in Hove, East Sussex in 2003.
The 39-year-old then hid her body in a storage depot before taking it to secluded woodland and setting fire to it.
On the day before he killed Miss Longhurst, Coutts had been looking at images on two violent pornography websites.
Ms Longhurst, and former MP Martin Salter, successfully lobbied for a new law banning ownership of extreme porn to be introduced into the Criminal Justice Bill 2009.
'Dreadful case'
The legislation has come back into focus again after evidence in Mark Bridger's murder trial in mid-Wales revealed he had also browsed violent images online.
Mrs Longhurst said changes to the law in the wake of her campaign have only been implemented a handful of times.
She wants internet service providers (ISPs) and search engines to stop the material from being made available.
She said: "What annoys me immensely is that Google won't block these sites.
"Internet service providers can go on about freedom. All I ask them is where was my daughter's freedom?
"Graham Coutts thought he was the only person who thought in that way, but then the internet came along and it normalised this material for him, so he relaxed and went with the flow.
"It's so easy just to say things, but to actually do something about this problem is what is needed."
Mrs Longhurst expressed her sympathies with April Jones's parents and said she was deeply saddened by the "dreadful case".
Scott Rubin, Google's director of communications and public affairs, said: "Google has a zero-tolerance policy on child sexual abuse content.
"We are members and joint funders of the Internet Watch Foundation, an independent body that searches the web for child abuse imagery and then sends us links, which we remove from our search index.
"When we discover child abuse imagery or are made aware of it, we respond quickly to remove and report it to the appropriate law enforcement authorities."