M6 Christmas Day crash: No charges from CPS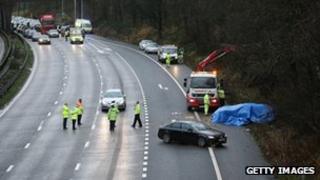 No-one is to be charged in connection with a fatal M6 crash in Staffordshire on Christmas Day, the Crown Prosecution Service has said.
Brothers Adnan Habib, 10, Mohammed Arsalaan Habib, four, and family member Bushra Tazarib, 32, from High Wycombe, Buckinghamshire, died in the car crash.
The boys' mother, Parveen, 38, who was driving, and their sister Misbah were also both injured, but survived.
The CPS said it was not in the public interest to prosecute in this case.
It said Mrs Habib had "lost directional control of the vehicle" before the car overturned on a northbound lane between junctions 14, near Stafford, and 15, near Stoke-on-Trent.
Zafar Siddique, deputy chief crown prosecutor from West Midlands CPS, said: "This is an extremely tragic case of a mother, who was driving her family to a wedding on Christmas Day, losing control of her car which resulted in a collision on the M6 motorway.
"As a result, her two young sons and aunt, who were passengers in the car, all sustained fatal injuries."
The family was travelling to Greater Manchester.