Worcestershire leads drive to defuse dementia time bomb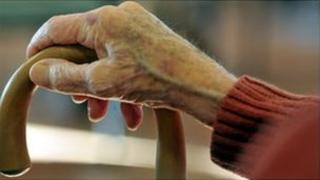 The good news is that most of us are living longer.
The not-so-good news is the longer we live, the further we seem to be from meeting the challenges of caring for an ageing population. First came the pensions crisis, and now it's the dementia time bomb; the long-term residential and nursing care of elderly dementia patients and how we are to pay for it.
The caring services are clearly at risk of becoming victims of their own success. Having extended the length of average life-spans, they now have to meet the growing demands on their resources and expertise.
NHS projections make disturbing reading. Last year, the number of dementia patients, (diagnosed and estimated undiagnosed) in the West Midlands stood at 70,739. By 2021 this number is forecast to reach 90,038.
Top-level recognition
NHS figures also show Herefordshire and Worcestershire have some of the highest incidences of dementia in the UK, due partly to their relatively high number of residential and nursing homes and to towns like Malvern and Ross-on-Wye which have obvious attractions for people contemplating their retirement.
The work of the University of Worcester's Dementia Leadership programme is highlighted in the annual report of the prime minister's 'Challenge on Dementia', which Mr Cameron says must deliver improvements including better education and training for nurses specialising in dementia by 2015.
The university's director of dementia studies Professor Dawn Brooker is "delighted' that Worcester's Dementia Education Programme, developed with local hospitals, has had such top-level recognition.
She says: "It is planned to make this course more widely available across the UK. The programme, which uses a person-centred approach in caring for people with dementia, gives nurses an in-depth understanding of the needs of both the patients and their families along with the skills to provide expert care."
But Professor Brooker has this firm warning for the health service: "People with dementia occupy about a quarter of hospital beds because they need treatment for serious physical health problems.
"They are a very vulnerable and highly dependent group of patients. If hospital staff do not understand the additional needs that having dementia means then these patients do not receive adequate care."
Homes sold
But behind the headlines and the number-crunching lie thousands of personal stories, each of which indicates what lies ahead for no fewer than one-in-three of us.
Eighty-nine-year-old Barbara Wyatt is a dementia sufferer who lives in a care home at Stourport-on-Severn in Worcestershire.
The cost of her care adds up to £2,226 per month.
The Department of Work and Pensions contributes £243 per month through her Attendance Allowance.
Which leaves £1,983 per month to be funded from the proceeds of the sale of her former home.
We will meet Barbara and her family on this weekend's edition of Sunday Politics Midlands.
These are challenges which give us plenty to talk about with our guests Darren Cooper, Labour Leader of Sandwell Council, and Paul Tilsley, Leader of the Liberal Democrat group on Birmingham City Council. Paul is the vice-chairman of the Birmingham Community Healthcare NHS Trust.
We will also be talking to Karen Harrison Dening from Dementia UK, who has long experience of nursing dementia sufferers.
And I hope you will join me too, from 11:00 BST on BBC One Midlands this Sunday, 16 June 2013.