Stretch of Grantham Canal to reopen after over 80 years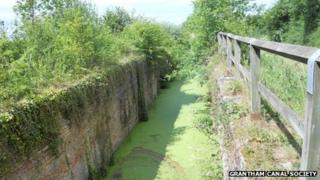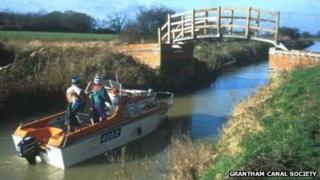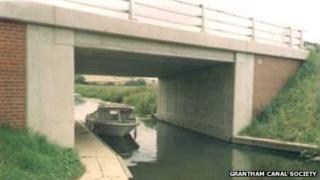 A stretch of a canal which has not been properly used by boats for over 80 years is due to reopen.
Grantham Canal was used to transport toilet waste from Nottingham to farms in the Vale of Belvoir until the 1920s.
The 33-mile canal officially closed in 1936 but volunteers have been working since the 1970s to reopen it to boats.
Two new lock gates will be installed in late summer, making it possible for an extra half a mile (0.8km) stretch at Woolsthorpe, Lincolnshire, to open.
The Grantham Canal Society needs to raise £8,000 for the gates to be installed.
Seven miles of the canal - four miles at Woolsthorpe, one mile at Cotgrave and two miles at Hickling - is currently usable.
Mike Stone, chairman of the society, said: "It's a canal which goes through a beautiful landscape - the Vale of Belvoir is extremely attractive.
"What we want is for people to appreciate the canal is there and to use it for whichever interest they have, whether it's angling, boating, walking or cycling."
Rubbish tip proposals
Following the closure of the canal, 23 of the 69 bridges were later lowered or flattened to make way for road improvements, preventing boats passing.
The 18 locks fell into dereliction, and in the 1960s there were proposals to fill in the canal by using it as a rubbish tip.
These proposals were fought and the Grantham Canal Restoration Society, as it was then named, formed in 1969.
Since then, society members have cleared towpaths to make them walkable, and five bridges have been rebuilt to make them passable for boats.
The society has already fully restored locks 17 and 16, which are towards the start of the canal in Grantham.
The two new gates are due to be installed at lock 18, extending the existing four-mile stretch at Woolsthorpe to four and a half miles.
Boats have already used this stretch, including one which the society uses for fundraising boat trips.
It is hoped that the Heritage Lottery Fund will provide a grant for locks 15, 14, 13 and 12 to be restored, and a bid is currently being worked on.
Locks six and seven have already been restored as part of a regeneration scheme in Cotgrave.
Mr Stone said restoring the whole canal could take decades, but it would only take five or 10 years if all of the money needed were available.