Plamen Petkov memorial fund pays for lifeguards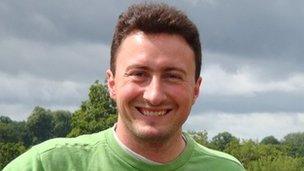 A fund set up after a man drowned saving a young child from being swept out to sea off West Sussex has raised enough money to train 10 lifeguards.
Plamen Petkov, from south London, died after saving a five-year-old girl off West Wittering beach, on 26 May 2012.
Mr Petkov, 32, who was a British citizen of Bulgarian origin, was posthumously awarded the highest civilian Bulgarian distinction.
A memorial bench and plaque have been unveiled at the beach.
Speaking after the unveiling, Mr Petkov's mother, Antoaneta, said: "My son always showed concern for others.
"His death has been devastating but it was not a surprise to find out that the accident happened because he didn't hesitate to answer a cry for help."
Mr Petkov's family set up the Forever by the Sea fund, to help the RNLI in their work to make Britain's beaches safer.
Mr Petkov dived into the water after he and a friend spotted a mother shouting for help because her daughter was adrift on an inflatable ring being taken out to sea.
He managed to reach the girl but after he passed her to a woman from Guildford, who also entered the water, he was dragged under the surface by strong currents.
Mr Petkov was pronounced dead at the scene by the emergency services despite attempts by the woman to resuscitate him.
Gemma Nightingale, from the RNLI, said: "We run beach safety awareness work such as Beach to City and Hit the Surf, programmes which rely on voluntary donations.
"To put the fund's importance into context, £5,000 is enough to train 10 lifeguards for the year."
Related Internet Links
The BBC is not responsible for the content of external sites.