Action urged to protect referees from assault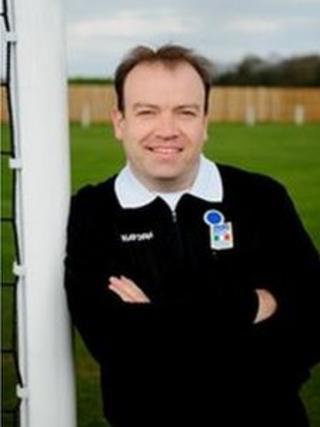 To many people in the Westminster village, the MP for Daventry is an independently-minded man with a history of rebelling against his party leader, particularly over Europe.
But Chris Heaton-Harris has another passion dear to his heart. For the last 33 years he's been a football referee.
"I have to admit that I love the game," he told MPs, revealing that he took his referees' course at the age of 12.
"I am passionate about the sport I practise every week. One has to be passionate to go out there in most weathers, doing one of the least popular jobs in the country week in week out."
So is running round after 22 players for 90 minutes and blowing a whistle really such an unpopular job? Apparently it is. According to Mr Heaton-Harris, not only do players often argue with the ref, he also runs the risk of being assaulted.
"I find it astonishing that in the last year for which full records are available, 528 referees - more than 10 a week - were assaulted during a match," he told the Commons.
"Referees up and down the country are becoming more and more concerned that neither the police nor the Crown Prosecution Service (CPS) is following through with the investigation of assaults."
Referees killed
The problem, he believes, is that there's a preference for leaving it to football authorities, who tend to believe that match bans alone are enough of a deterrent.
"Referees would like the police to be more willing to charge those who assault match officials, rather than leaving the issue to be dealt with in-house by local county football associations.
"Police action is a far greater deterrent and would ensure that referees felt more supported."
Mr Heaton-Harris said he was lucky not to have been assaulted - although on one occasion he had to call in the police after he was threatened.
He did cite more serious cases. One involved a referee in Coventry who was taken to hospital by ambulance and needed stitches in his mouth. His assailant was spoken to by police but never arrested.
In Manchester a player who karate kicked a referee when he was given a red card was given a suspended sentence.
And worryingly, in Holland and America recently, referees have actually been killed.
Extra deterrent
The good news is that there has been a 21% fall in assaults against match officials in the last year but Mr Heaton-Harris believes 10 attacks a week is still far too many. He believes it could be discouraging people from volunteering for the role.
Officials of all sports across the country, he said, wanted to pack their kits for this weekend safe in the knowledge that they were appreciated and that there would be an extra deterrent to stop those who use violence towards them.
Justice Minister Jeremy Wright agreed that this was an issue that needed to be taken more seriously.
Such violence was damaging for all who enjoyed sport, he said but he saw no need for any special offences to govern violence on the pitch. The police and CPS already had a range of offences which they could use, from common assault to actual or grievous bodily harm.
"There is no magic solution but I accept that we need to work together to raise awareness and to ensure that the system we have works better," he said.
The issue is now on the ministers' radar. Players, managers and supporters may do well to think twice when the ref next makes a questionable decision.