Olympian Frank Salvat saved from pauper's burial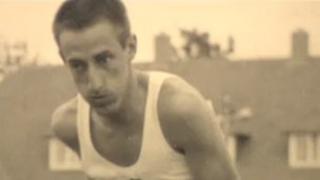 Well-wishers have stepped in to give an Olympian who faced a pauper's burial a "proper send-off".
Frank Salvat, who represented Great Britain in the 5,000m at the Rome Olympics in 1960, died in poverty aged 78 in Hurstpierpoint, West Sussex.
Nobody claimed his body after his death last month.
Now pubs and businesses in Hurstpierpoint and his old athletics club in north-west London have raised money for a funeral and wake.
Mr Salvat, who worked as a magazine designer in London, was an Amateur Athletics Association three mile champion and turned international in 1960, running for Great Britain in the 5,000m at White City.
He represented his country at the Rome Olympics later that year.
'Cider Frank'
The wake will be held at the New Inn in Hurstpierpoint, the village where Mr Salvat lived before his death.
Pub landlord Peter Hamson said the athlete's nickname had been "Cider Frank".
"He obviously enjoyed a drop," he said.
"He was just a good old boy and one of ours.
"The whole community, surrounding areas, residents, businesses, all felt ashamed that nothing was being done properly and we've all chipped in and made something happen. "
Mr Salvat ran for the Finchley Harriers, now Hillingdon Athletic Club in north-west London, which has also contributed to the fund.
Athletics agent Eric Shirley Jr, whose father was Mr Salvat's training partner, said: "He was an amazing man with an amazing amount of charisma.
"His pre-race diet, two hours before he competed, even at the very highest international level, would be a pie and a pint.
"It's not unknown for him to start a race with a brandy glass in his hand, hand it over to someone, and even have a cigar waiting for him at the end."
Mr Salvat's funeral will be held next week.
Mourners plan to scatter his ashes at Hampstead Heath in north London, where he often trained.