The pain caused by Facebook 'joker' Reece Elliott's kill threats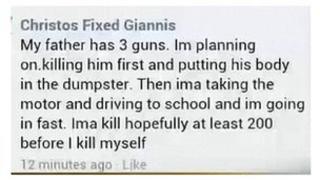 On 6 Feburary, Reece Elliott posted a message on the Facebook page set up in memory of car crash victim Caitlin Tally.
But rather than paying tribute to her, or sending best wishes to her family, his message said he was planning to kill 200 people.
He wrote: "My father has 3 guns. Im planning on killing him first and putting his body in the dumpster.
"Then Ima taking the motor and driving to school and im going in fast. Ima kill hopefully at least 200 before I kill myself.
"So you wanna tell deputy im on my way." (sic)
He posted the abuse under the false name, Christos Fixed Gianni.
On Tuesday, Elliott was jailed for two years and four months at Newcastle Crown Court after admitting making threats to kill.
The threat immediately provoked a response from the friends and family of Miss Tally, a pupil at Warren County High in McMinnville, Warren County, Tennessee, who had been killed in the crash four months earlier, last October.
'Unscrew the bullet'
Facebook users were furious and urged him to stop.
But Elliott replied to one woman directly, stating: "You have been chosen tomorrow at school to receive 1 of my bullets. The doctors will have to unscrew the bullet from your skull bitch."
Horrified friends and family of 17-year-old Miss Tally spotted the messages and informed her school.
Officials contacted the Tennessee Bureau of Investigation (TBI) in Nashville and Homeland Security.
Within hours its agents had traced 24-year-old's Elliott's IP address to South Shields in the North East of England - more than 4,000 miles away.
In April, at Newcastle Crown Court, Elliott admitted one count of making a threat to kill and eight counts of sending grossly offensive messages.
Spokeswoman for the TBI, Kristin Helm, said: "The threats which were posted on a memorial Facebook page for a deceased female student alarmed both school officials and parents, many of whom kept their children out of school.
"More than 2,900 students did not attend class after the threat was posted, which is nearly half of Warren County's students.
"The threats prompted an increase in police presence at the schools and all exterior doors were locked.
"Parents, students and school officials were relieved that, due to his location, he did not pose a true threat to students.
"As you can see, threats like this are taken very seriously in the US largely due to previous school shooting tragedies."
Tony Cassel, executive principal at Warren County High School, said his 1,800 students and 180 staff were "stressed" and "worried" as armed guards patrolled the corridors and every pupil had their bags checked.
"We did not close our schools, we increased security in our district, in our school we had increased police officers and deputies," Mr Cassel explained.
"We searched all bags that came through and for the next two days we had an increased police presence in the school.
"Social media is a powerful tool and can be powerful in a negative way or a positive way.
"Many of the wider community, staff and students were already very aware as things hit Facebook," he added.
'Hurt and pain'
Mr Cassel has been at the school for two years and this was the first time it had received such a threat.
He said: "We had to take that threat seriously until we knew otherwise.
"We made sure we had all the personnel to make our students feel safe and comfortable about coming to school.
"Unfortunately, if it was meant to be a joke, it wasn't funny. It put a lot of people here at the school into a state of worry related to those comments.
"It certainly brought up a lot of hurt and pain in relation to the loss of student Caitlin Tally.
"My students - and I'm sure her family in particular - had to revisit that memory, he may state that it was a joke, but I would think that someone of his age would recognise there wasn't a lot of humour in that.
"I respect the fact that the authorities here and the authorities in England worked together to let Mr Elliott know that this was not to be taken lightly and that it caused a significant amount of stress and worry in our district and disrupted our school for several days."
Northumbria Police said it had seen a huge increase in social media crimes.
A spokesman said: "We take all reports of offensive behaviour seriously and where there is a genuine risk of harm or evidence of a criminal offence we will investigate."